2021 harvest low yields. Analysis and recommendations for 2022.
Which conditions impacted berry size in 2021? What can we learn at this point to improve for the 2022 vintage? 💥 You don't want to miss this online event! Join us for this exceptional analysis. Cecilia Cunningham and Thibaut Scholasch will share a refined understanding of the conditions that impacted ripening in 2021 along with recommendations on how to prepare for the 2022 season considering current Napa conditions. 🚩 𝗣𝗿𝗼𝗴𝗿𝗮𝗺: 1. Napa Harvest review: Small but concentrated. What happened in 2021? 2. Which factors contributed to the abnormal ripening? How did it impact flavor profiles ? 3. What role did heat waves and severe drought play? Did they impact berry maturation profiles? 4. What are the potential insights for 2022? So far, we have a dry winter, what does this tell us for next harvest? 5. Ask any question, share your experiences, learn, connect and have fun! 🎟 𝐒𝐚𝐯𝐞 𝐭𝐡𝐞 𝐝𝐚𝐭𝐞 𝐚𝐧𝐝 𝐠𝐞𝐭 𝐲𝐨𝐮𝐫 𝐧𝐨𝐭𝐞𝐩𝐚𝐝 𝐫𝐞𝐚𝐝𝐲. Your ticket will also give you access to the event recording and the pdf document of the slide presentation.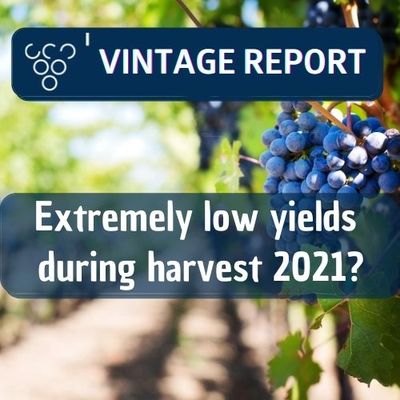 Napa Valley Vintage Analysis 2021
𝗨𝗻𝗱𝗲𝗿𝘀𝘁𝗮𝗻𝗱𝗶𝗻𝗴 𝗲𝗮𝗰𝗵 𝗴𝗿𝗼𝘄𝗶𝗻𝗴 𝘀𝗲𝗮𝘀𝗼𝗻 𝗽𝗿𝗮𝗴𝗺𝗮𝘁𝗶𝗰𝗮𝗹𝗹𝘆 𝗶𝘀 𝗲𝘀𝘀𝗲𝗻𝘁𝗶𝗮𝗹. Each vintage poses unique challenges and distinct advantages. During this event we will discuss the most important wine growing trends for the 2021 Napa Valley vintage and its impact on wine production. 𝗛𝗲𝗿𝗲 𝗶𝘀 𝗪𝗵𝗮𝘁 𝗬𝗼𝘂'𝗹𝗹 𝗟𝗲𝗮𝗿𝗻: - How has climate impacted the production of wines from this vintage - What can we expect from wine quality - What tools can we utilize to help our understanding of the vine and fruit - How can we leverage what we learned in 2021 to sustainably produce quality fruit and create world-class wines next season. ✏️Get your notepad ready, ask any question, learn and have fun. Your ticket give you access to the event replay video.